Welcome to Fashionable Hostess, a blog dedicated to those who love to entertain and throw parties in their home. My name is Amanda and I am a busy mom of 3 who loves to host… from pool parties to dinner parties to wine and cheese nights (I am famous for my cheese boards), I have people over weekly and love to share my adventures in what I am whipping up for the occasion.
I am excited to show you how I am decorating and entertaining at our house, the #MiaChateauFH as known on instagram, for Summer 2019! Also, I hope you will follow my insatgram @FashionableHostess where I share daily adventures of my parties!! Let's get started…
---
---
Welcome to my Summer 2019 Home Tour
This summer I am all about the blue hues which you will find across our home, from our family room pillows, to our outdoor pillows, to our dining room vases (my Ginger Jar obsession is real!).
Details on my 4th of July Cheese Board seen above can be found in this post!!

---
---
My Family Room
In my family room I updated all of our couch pillows for Summer with gorgeous new designs from Serena & Lily (I linked them to shop below!). I always say that a swap of couch pillow covers can make a huge impact in a room and it definitely did here!! The room looks so much softer and brighter with these soft shades of blue.
I also styled a patriotic bar cart for summer guests to enjoy (which works whether we are having guests over to swim or for Fourth of July weekend!). I took my Society Social bar cart and placed a striped ice bucket from NICEBUCKETS on the top tier for chilling wine (use code "Hostess" for a 10% discount as well as free shipping until the end of July on the site).
I have lots of red, white and blue details on my cart like my Maritime Cocktail napkins from Kim Seybert to my American Flag arrangements, to my 3-tiered stand which I used to serve red and blue fruits. On the bottom level of the cart I used a Ginger Jar as a vase for an arrangement of hydrangeas with American Flags popping out (I am using these arrangements on my 4th of July Table as well, which you can see here).

---
---
On our Patio
We practically live outdoors this time of year, hosting our kid's friends to swim in the afternoons, BBQs on the weekends… you name it. So I wanted to share this space on the tour!
Before I get started, for anyone new to FH, for all the details on my outdoor furniture (which I have had for 2+ years from Frontgate and is amazing quality, see this post.).
On our patio I love using our Frontgate Teak Bar Cart (which is on wheels and so easy to move around the patio!) when we have guests. For summer I updated our pool towels to these Sydney Beach Towels with tassels which I draped on the cart for guests to grab, so cute right?! And while the Bar Cart has a built-in drink tub but I also love displaying fun ice buckets all over the pool area with bottles of Pellegrino and White Wine and these ice buckets from NICEBUCKET are too fun – see all of their prints here.
My outdoor pillows are from all over – Frontgate to Homegoods and more! I tried to link some similar to shop below!

---
---
Outdoor-Friendly Essentials
I always use acrylic glasses and melamine plates when entertaining outdoors and Juliska's Al Fresco Collection is the nicest I have seen. If you are familiar with their standard glass designs you will be blown away how the acrylic looks exactly like their stunning glass styles (and have a nice weight to them). I recently added their Acrylic Wine Glasses and Isabella Acrylic Pitcher to my collection for a summer-time Sangria. Meanwhile I got the Berry & Thread Melamine Plates last year and have already started using them this summer.

---
---
Summer Dinner Party
For the last stop on the tour I wanted to share a more elegant Summer evening in our dining room. I have showed my Ginger Jars displayed in a few different ways throughout the tour and that's because I LOVE them. They are gorgeous on their own or filled with flowers as a centerpiece, bringing the pop of blue that works so beautifully in the summer. I linked many of my favorites for you below.
For my Summer dinner parties, I keep things clean and simple… whites and golds with that pop of blue from the ginger jars. Every time I use these beaded rim gold chargers I get so many compliments so here is a link. Also I love the detail of a simple sprig of greenery – be it eucalyptus or even thyme or rosemary at each place setting. It really softens the look.

---
And that's a wrap!! Thank you for stopping by!! For more images of my home, head to my Home Tour Section.
I am so excited to be a part of the "Loveliest Looks of Summer Tour" a chance for you to view a select group of Summer Home Tours designed by some incredibly talented bloggers.
Check out other beautiful Summer Home Tours: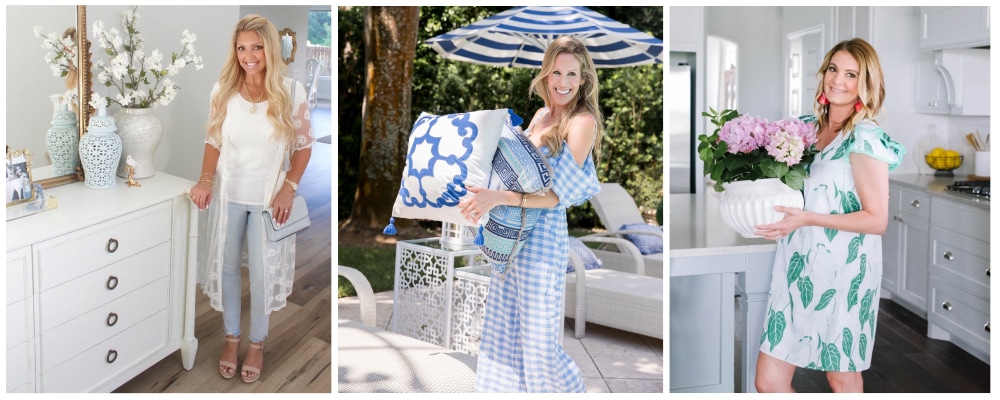 Summer Adams | Fashionable Hostess | A Blissful Nest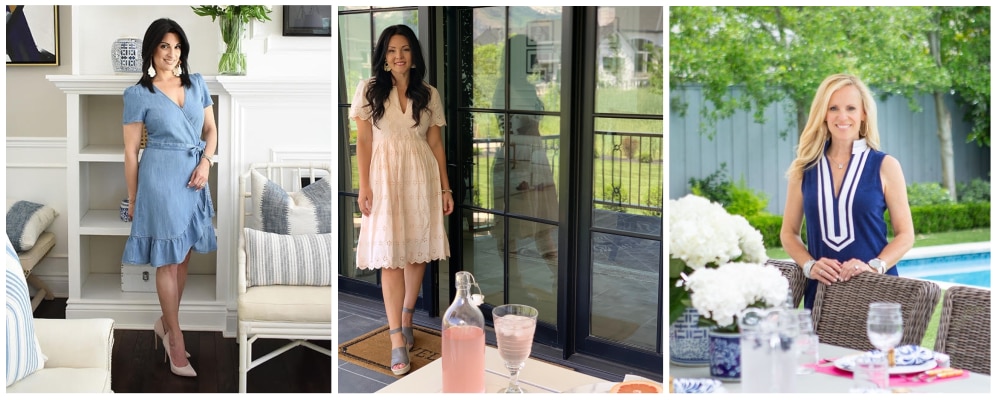 Citrine Living | Remington Avenue | Alicia Wood Lifestyle
Photography by Simply Lively
Thank you to the brands that helped bring this post to life.