Dinner Party Spotlight: Lindsey Katalan of CURATED
---
A gal who designs gorgeous kitchens and then selects the perfect glassware to compliment them… now that's seeing eye to eye with the FH. Meet this week's Dinner Party Spotlight, Lindsey Katalan. Lindsey's career includes working for St. Charles of New York an award-winning design firm specializing in state of the art kitchens. But what really caught my eye was Lindsey's newest venture, CURATED, a personal shopping service to compliment your pristine kitchen where Lindsey works with clients to decorate their kitchen space with art, glassware that suits their lifestyle, and culinary accessories. From styling photo shoots to most recently, helping brides construct their wedding registries, CURATED is growing quickly in the New York scene.
When I headed to Lindsey's apartment located in the Financial District I knew I'd find beautiful glassware, but I was equally as excited to see she entertains for guests at a bar top, something totally fun and new to the FH. Intrigued? Read on to learn more about her tablescape style.
FH: What is your entertaining style? Traditional, Contemporary, Seasonal?
Lindsey: Being in the tabletop industry, I am a big advocate of formal dining. Even during those college " grunge" years, I was always playing hostess at my apartment. So when I first moved in to my fiance's downtown apartment (read "bachelor pad") with no dining table, I was enticed by the challenge of formalizing the concept of bar entertaining. Because my apartment layout is so contemporary, I have to overcompensate for it's structure in the details of the tablescape. There is no room for frivolous items, so I pull in the decorative elements from the essentials; plates, glasses, and cutlery.
FH: How often do you entertain and for how many guests?
Lindsey: I would say we have people over at least three times a month. We New Yorker's dine out so often- too often- so anytime we schedule a dinner with friends I offer to host it.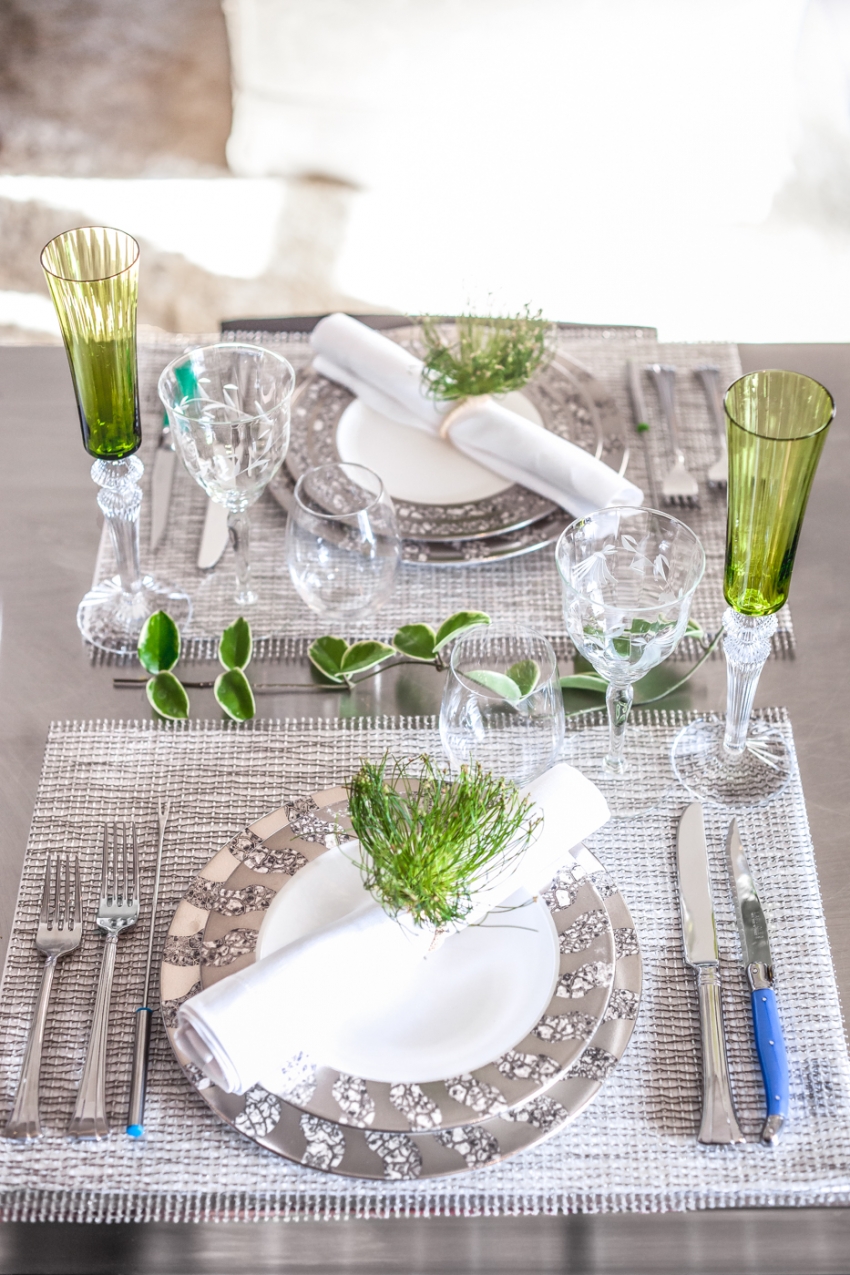 FH: Do you have a go-to recipe or dish?
Lindsey: MEAT FONDUE! I know what you're thinking. Fondue-themed dinner parties should have died with the seventies, and I hear you! I've had plenty of people come into my house with their noses turned at the idea. But my fiance is Swiss and swears by his childhood favorite (with a twist). I'll serve a variety of hot and cold appetizers beforehand, and then bring out the pot filled with mildly seasoned vegetable oil for the entree portion of the evening. I prep a platter of 1 inch cubed chateaubriand as well as a raw seafood plate with prawns, sliced calamari, and whatever else looks fresh. The labor of love goes into making a myriad of dipping sauces that are served alongside the fondue.
FH: Did something inspire you for today's table? A certain color, flower, plate?
Lindsey: I've recently decided to work with the stainless steel instead of apologizing for it. In the past, I've draped the bar in tablecloths and runners, but now I'm highlighting the metal. This particular tablescape is an ode to the greyish color scheme.. I pulled in the green from the champagne flutes with the napkin ring. If I have to incorporate one color, it's usually green. A small nod to nature in this urban dwelling, I suppose.
FH: Tell me about today's table
Napkins – Sferra Table Linens
Napkin rings – Deborah Rhodes
Water glasses – Riedel Stemless Glassware
Wine glasses – Antique
Champagne Flutes – Baccarat Mille Nuits Flutissimo
Silverware – Wedgewood
Knives – Laguoile Steak Knives 
Pieces of art behind table – ­Antique Map shop in Fulham, London. It's a map of Scotland, created in Edinburgh in the 1800s. I studied at the University of St. andrews in Scotland, so the country has a special place in my heart. ­ On the opposite end is the 'Art worker's wont kiss ass' piece, I found years ago in a random Chelsea gallery and had to had to have.
Follow Lindsey and CURATED on her Instagram @CuratedbyStCharles or see her work live as she will be the youngest participant in the 2015 Sothebys Designer Showhouse. It debuts April 11th-19th at Sotheby's on the Upper East Side. Thanks Lindsey for sharing your gorgeous tabletop!
Shoot Location: Financial District, New York // Photographer: Alexandra Wolf