Cooking Planit and Colavita Eat Fresh Challenge – Week 1
---
Since I entertain regularly, my knack for setting a beautiful table on the fly is something I can do with my eyes closed. Unfortunately when it comes to the cooking portion, it's quite the contrary. If I make myself follow a specific recipe, I am able to create some lovely dishes, but the thought of getting out my recipe book, going through and making my grocery lists, and so on and so on, seems daunting. So in true New Yorker former, I too frequently order in.
When I was asked todo the Colavita Eat Fresh Challenge, which was a challenge to cook over the next few weeks using the website Cooking Planit, I was nervous about what I was committing to. But after using the app to cook my first meal, the "Make it Mediterranean" with Grilled Lamb with Cucumber Raita, Balsamic-Glazed Carrots, and Pine Nut and Cranberry Couscous, I am seriously obsessed. I mean… is your mouth watering yet?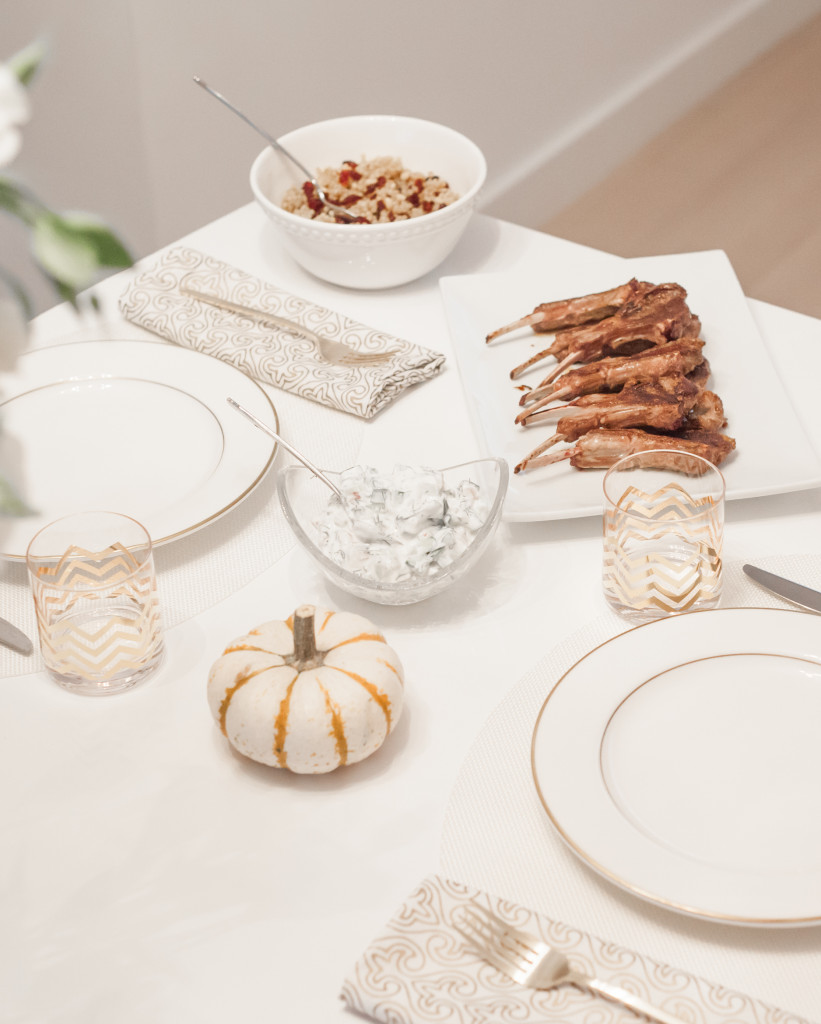 Ok so why I am obsessed? Well for one, rather than having to get out a recipe for three separate dishes and follow each individually, the site helps you cook as a "meal." While your water is boiling for your cous-cous, the next step sends you to work on your meat, and then while the meat is cooking, it directs you to your veggie. And best of all, it gives you a total time estimate for completing all three things, so it's not like "Ok, the lamb is done, now what am I going todo for a side dish?" Also, you can search by cuisine, by food, you can plan out your meals for a week and then it creates a whole grocery list comprising everything you need to pick up. Best of all, they have an iPhone APP, so I just had my phone handy at the grocery store todo my shopping.
My meal schedule for the rest of this week includes: BBQ Grilled Shrimp with Cauliflower Fried Rice and Oven-Roasted Chicken Drumsticks with Parmesan Potato Wedges! As you can see from my pics when I was cooking, Colavita Olive Oil and Balsamic Vinegar were key proponents in my recipe; I will also be hosting a photo contest in the coming week where you can win a Colavita Pantry Essentials Basket ($120 Value) – Details to come!  In the meantime, start shopping with 20% off your purchase plus free shipping on all orders over $99 when you enter eatfresh20 at Colavita checkout.
Make sure to follow along on my cooking adventures in the coming weeks; I will be updating my Instagram and Twitter with Hashtag #EatFreshChallenge. And I am not in it alone!! Here are the fabulous bloggers I'm teaming up with for this challenge… make sure to check them out too!
Live Laugh Rowe
 / 
The Rebel Chick
 / 
Sparkling Footsteps
 / 
The Shine Project
Design Eat Repeat
 / 
My Fashion Juice
 / 
Fashionable Hostess
This post was sponsored by Cooking Planit.  Items have been gifted to me, but opinions are my own.