Bedroom: Styling your Bedding
---
When it comes to buying new bedding I feel that there is this huge misconception that the simplest way is to go to 'one' store and buy 'one set' so that it all matches. While a one-stop-shop is always convenient, I find there to be countless downsides to simply pulling a bed out of a bag and here is why. 1.Buying a full set at a beautiful store can be very pricey, 2. You run the risk of walking into your friends home and seeing an exact replica of your bed in their bedroom, 3. Finding a bedding set where you actually like 'everything' included can actually be more difficult than you think, and 4. You lose that sense of character that putting together on your own can lend to a bland room.
Now, I know what many of you are thinking… that you are not the "decorating type" or that you just don't trust your taste to take such a risk. Well, luckily I am here today to show you how it's actually quite simple to put together a gorgeous bed in just 3 easy (practically brain-proof/taste-proof) steps! Not to mention, can all be done online with a few simple clicks… So here we go…
1. Start by picking a matching Duvet Cover and Standard Pillow Case. Be aware that you usually need to buy the 'inserts' separately. Shop mine, the Hudson Park Italian Percale Bedding from Bloomingdales.com.
2. Pick a matching Quilt and Euro Sham in a solid color. [Again, purchase the insert to the Euro Sham onAmazon.com]. This is a chance for you to have fun with color if your duvet was bland- I brought in a whole element of sea-foam to the room! If you did however choose a multi-colored or patterned duvet/pillow, choose one of the colors that is in the print as opposed to bringing in a whole new color. If finding a color in the print becomes difficult or hard to match, you can't go wrong with a neutral color like white, natural, or light grey as well. [Shop mine, the Ralph Lauren Wyatt Collection from Bloomingdales.com]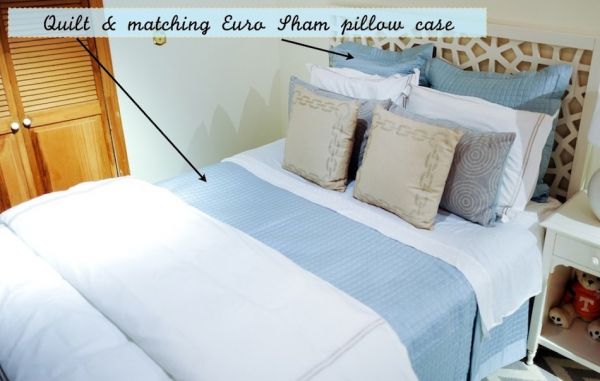 3. Pick two sets of accent pillows. For the first set, choose pillows that match Step 1 (ones that match back to your duvet/standard pillow color scheme). For the second set, choose pillows that match Step 2 (ones that match back to your quilt/euro sham). So in mine, I chose one set with sea-foam and blues to match my quilt/euro, and then golds to match the trim in my duvet/pillow. I recommend finding ones with texture such as studs and embroidery! (I love Safavieh from Overstock.com for these because 1. the pillow insert is included, 2. they are sold in sets of two, and 3. they come in so many colors/prints/textures!).
Now all that's left to do is put it all together! Make sure to make your bed the way I did to show off all of your beautiful elements. First lay down your sheet (again no need to splurge, a simple white or cream from Bed,Bath, and Beyond will do!). Next lay down your quilt on top and fold the sheet over to about mid-way through the bed (see pictures for reference). Fold your duvet in half and place at the foot of the bed. For your pillows the order is: euro shams first, standard pillows second, and 2 sets of accent pillows last (smallest up front!). You are all set!